Click enlargement to return to Gallery.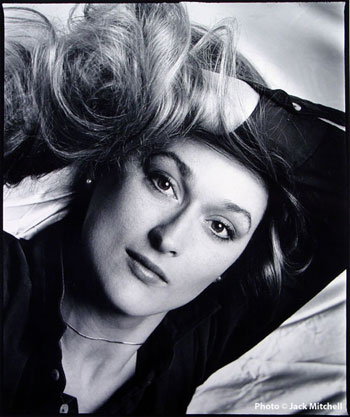 Actress Meryl Streep, 1979
Jack Mitchell first photographed Meryl Streep, for After Dark Magazine, in his studio on August 12, 1976 when she was appearing in a Joseph Papp "Shakespeare in the Park" production. He next photographed her in the 1977 Shakespeare Festival production of Chekhov's "The Cherry Orchard" at the Vivian Beaumont Theater starring Irene Worth and Raul Julia. The photograph above is from a portrait session for The New York Times Magazine article about Meryl Streep's rise to stardom in the film, "The Deer Hunter", and the tv miniseries, "The Holocaust".
- Craig B. Highberger