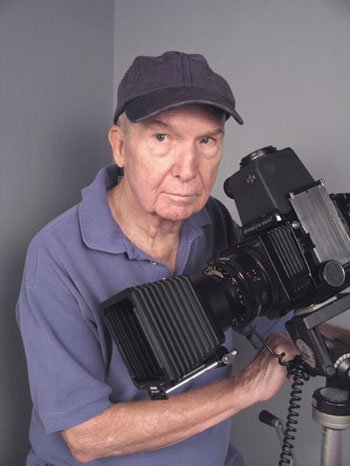 Jack Mitchell in his studio, 2005
Photograph by Craig B. Highberger
About Jack Mitchell
by Craig B. Highberger
I first became aware of Jack Mitchell's extraordinary photographs when I was in high school in Pittsburgh, Pennsylvania. I purchased a copy of After Dark magazine with one of Jack's lush images on the cover. There were more inside. I began to anticipate each issue and look for his photographs. I saved all of those issues, too. Little did I know that more than 30 years later I would make a feature-length documentary about Jack's life and work.
Jack Mitchell was born in Florida in 1925. His father taught him basic photography and he became an avid reader of photography magazines. He was first published in a national photography magazine when he was 15 years old. The photograph was a carefully composed portrait in profile of his art teacher using Rembrandt lighting. Jack got his first press card in 1942 at the age of 16, from the Daytona Beach and New Smyrna Beach Observer for which he photographed movie star Veronica Lake who was on a War Bond tour and Victor Mature who was appearing in the U.S. Coast Guard show "Tars and Spars".
After high school Jack was drafted into the U.S. Army, serving in the Infantry. He later became a U.S. Army Public Relations Photographer. He was stationed in Florence and Venice, Italy. In 1950, several years after returning to the U.S., he moved to New York City. At the suggestion of modern dance pioneer Ted Shawn, he at first concentrated on photographing dance and dancers. William Como, editor of Dance Magazine (and later editor and publisher of After Dark magazine) began assigning Jack to shoot photographs. The July, 2003 issue of Dance Magazine featured his 168th cover photograph for that publication.
In 1957 Jack met Bob Pavlik. Within a few weeks they moved together into a large apartment at East 74th Street and York Avenue with adequate space for a studio, a darkroom, and living. Bob became Jack's business and life partner.
In the 1960's The New York Times Arts and Leisure section editor Seymour Peck became aware of Jack Mitchell's work and began assigning him to photograph major creative and performing artists of all disciplines. Mitchell's photographs have also appeared on the covers of and in The New York Times Magazine, Rolling Stone, People Magazine, Newsweek, Time, Life, After Dark, Vogue, Elle, Harpers Bazaar, Vanity Fair, Madam Figaro, Stern, and virtually every domestic and international publication featuring photographs of arts personalities.
After a forty-five year career in New York City Jack Mitchell and his partner Bob Pavlik now reside, in semi-retirement, in New Smyrna Beach, Florida. Jack works nearly every day producing black and white exhibition prints from his vast negative files and working on the concept and content for a book of his fifty-five years of Dance photography.
I was privileged to have had access to Jack Mitchell's enormous archives and was truly astonished and thrilled by what I saw. In my documentary you will see hundreds of Jack Mitchell photographs, many of which have never before been published or exhibited. As many of the interviewees in the film echo, Jack's body of work is an amazing chronicle of the arts covering a four-decade period. As longtime friend and subject Edward Albee says, "He's a rather extraordinary historian. I guess you could call him a photographer, but he transcends that."
- Craig B. Highberger